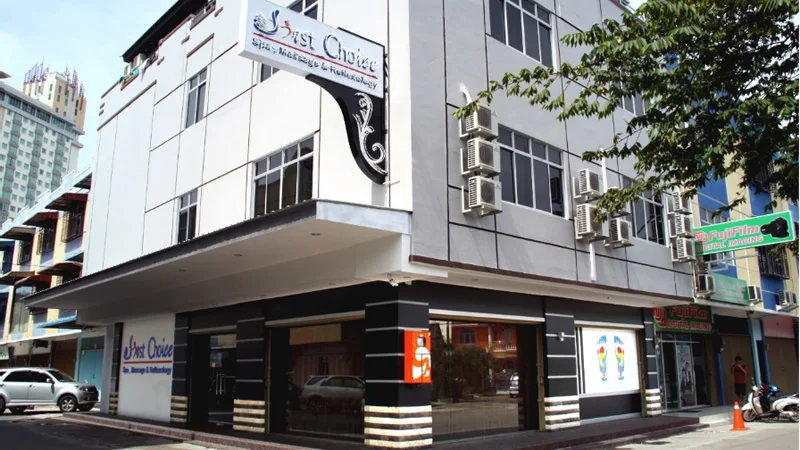 Batam Spa & Massage Package

Tropical Escapade Spa (120 Minutes)

5 mins. soothing foot and leg cleans
60 mins. aromatic relaxation massage
30 mins. skin softening body scrub
10 mins. steam or sauna
15 mins. skin nourishing milk bath with rose petals in jacuzzi pool
Moisturizing body lotion
Refreshing drink

S$ 152.00
( Rp 1,824,000 )

Blissful Day Spa (150 Minutes)

5 mins. soothing foot and leg cleans
60 mins. aromatic relaxation massage or hot stone massage
30 mins. skin softening body scrub
30 mins. body mask/v-ratus/totok wajah/ear candling/shoulders and back massage
10 mins. steam or sauna
15 mins. skin nourishing milk bath with rose petals in jacuzzi pool
Moisturizing body lotion
Refreshing drink

S$ 166.00
( Rp 1,992,000 )

Summer Blossom Spa (180 Minutes)

5 mins. soothing foot and leg cleans
60 mins. aromatic relaxation massage or hot stone massage or slimming massage
30 mins. skin softening body scrub
30 mins. body mask
30 mins. v-ratus/totok wajah/ear candling/shoulder and back massage
10 mins. steam or sauna
15 mins. skin nourishing milk bath with rose petals in jacuzzi pool
Moisturizing body lotion
refreshing drink
souvenir

S$ 171.00
( Rp 2,052,000 )

OR

About First Choice Spa
A prestigious spa centre offering life enhancing treatments offering relaxing Batam massage, reflexology, spa treatments. Situated at Penuin Area, this spa center provides great convenience for visitors who wish to pamper themselves after a long shopping.

One of the top Batam massage package offered in First Choice Spa is Refreshing massage package which include 90 minutes body massage to soothe aching muscles with choice of Aromatherapy, Stone Massage, Combination Massage, or Thai Massage and another 30 minutes additional treatment options : Body Scrub, Ear Candling, Ratus or Shouder & back massage.
There are also recommended spa package at First Choice Spa is the Blissful Day Spa with total of 150 minutes with combination of foot & leg cleanse, body scrub & massage, steam or sauna and milk bath. At the end of spa treatment, you will feel how your skin feels so soft and clean.
Address : Komplek Ruko Penuin Centre Blok OA No. 12 – 12A. Batam, Indonesia
Opening Hours: 10.00 AM - 10.00 PM daily.
Nearby Batam Hotels: i Hotel Baloi , BCC Hotel
Nearby Attractions within walking distance: BCS Mall, Grand Batam Mall, A2 Foodcourt.
Nearby Ferry Terminal : Batam Center Ferry Terminal, Harbour Bay Ferry Terminal ~ 15 mins.
Package Includes
2 Way Ferry Transfer HarbourFront Singapore - Batam Centre Ferry Terminal - HarbourFront Singapore with seaport tax
2 Way Land transfer Pier - Spa - Pier
Choices of Spa Treatment above
Singapore Seaport Taxes & Fuel Surcharge S$22/person payable upon collection of boarding pass at Batam Fast ferry counter, Harbourfront Centre and Batam Terminal Fee of Rp 65,000 or $7/person
Batam Guide & Driver Tipping of S$2/pax/day
Package Excludes
Personal Insurance, Room Service, Optional Tours, Porterage Fee, Visa Fee, and all expense of purely personal nature
Location Map of First Choice Batam Spa
Frequently asked questions
How do i get to First Choice Spa Batam?
You can get to First Choice Spa Batam by taking ferry from HarbourFront Ferry Terminal Singapore to Batam Center or Harbourbay Ferry Terminal with less than an hour ride. Once you arrive at Batam Center or Harboubay Ferry Terminal, you can take a taxi which is about 15 minutes drive away to reach to First Choice Spa. If you book our First Choice Spa Package, we will include the ferry tickets and 2-way land transfer from and to Batam Center Ferry Terminal for you.
When should i arrive to First Choice Spa?
Please arrive at the spa center 10 minutes prior your scheduled treatment time.
Can i use Singapore Dollars at First Choice Spa ?
According to Indonesia Government Regulations, all monetary transactions conducted in Indonesia must be in Indonesian Rupiah (IDR) only and credit card payments will be converted to Indonesian Rupiah as well.
Do i have to tip the therapists?
All the spa package prices do not include any service charge. If you prefer, you may opt to leave a tip as an appreciation of the therapist services.