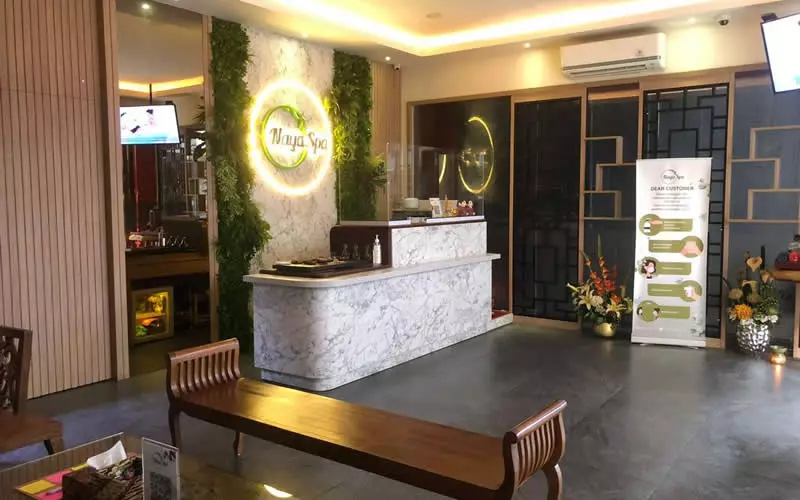 Favorite Spa (120 Minutes)

Body Scrub + Ultrasonic Body Bubble Bath + Traditional Massage
S$ 161.00
( Rp 1,932,000 )
Escape Spa (120 Minutes)

Foot Scrub + Ultrasonic Foot Bubble Bath + Reflexology

S$ 161.00
( Rp 1,932,000 )
Gateway Spa (180 Minutes)

Body Scrub + Ultrasonic Body Bubble Bath + Naya's Signature Massage

S$ 171.00
( Rp 2,052,000 )
Pampered Spa (180 Minutes)

Foot Scrub + Ultrasonic Foot Bubble Bath + Reflexology

S$ 171.00
( Rp 2,052,000 )
Aromatic Deluxe Spa (120 Minutes)

Choice of Oils + Aromatherapy Massage + Body Scrub + Milk Bath

S$ 171.00
( Rp 2,052,000 )
Full Aromatic Spa (120 Minutes)

Choice of Oils + Aromatheraphy Massage + Body Mask + Body Scrub + Body Steam + Milk Bath + Ear Candling

S$ 181.00
( Rp 2,172,000 )

OR

About Naya Spa
Naya Spa is conveniently located in the popular Penuin tourism and shopping district of Batam, a short walk away from multiple quality hotels, eateries, and the iconic Batam City Square (BCS) mall. We offer a full selection of relaxing and revitalizing spa packages, massages, scrubs, foot reflexology, facials, as well as other specialty treatments that serve to enhance both your beauty and wellness. Our affordable Naya Spa packages and treatments are catered to meet the unique needs of each and every individual, whether men, women, couples, or even children. Our family-friendly facility boasts exclusive private and couple suites, elegantly themed rooms for families and friends, as well as spacious accommodations for tour groups.
At Naya Spa, we are passionate about the treatments and services that we offer. We are confident that those who experience our revolutionary wellness treatments and the benefits of ultrasonic bubble bath technology will see their lives changed for the better. Our faithful Naya Spa customers return again and again, not only because of our affordable prices, convenient location, and excellent service, but because they see and experience real results from our cutting edge treatments. It truly inspires us to see lives improved, and to be able to have an important role in each individual's journey into new levels of health and wellness.
Address : Komplek Penuin Centre, Blok Q No. 12, Penuin, Batam
Opening Hours: 09.00 AM - 10.00 PM daily.
Nearby Batam Hotels: Aston Inn Gideon , Batam City Hotel , i Hotel Baloi
Nearby Attractions : BCS Mall, A2 Food Court, Grand Batam Mall, Top 100
Nearby Ferry Terminal : Batam Center Ferry Terminal ~ 20 Mins
Package Includes
2 Way Ferry Transfer HarbourFront Singapore - Batam Centre - HarbourFront Singapore with seaport tax
2 Way Land transfer Pier - Spa - Pier
Naya Spa Treatment of choice above
Package Excludes
Personal Insurance, Room Service, Optional Tours, Porterage Fee, Visa Fee, and all expense of purely personal nature.
Therapist tips of min. S$2/pax
Spa Gallery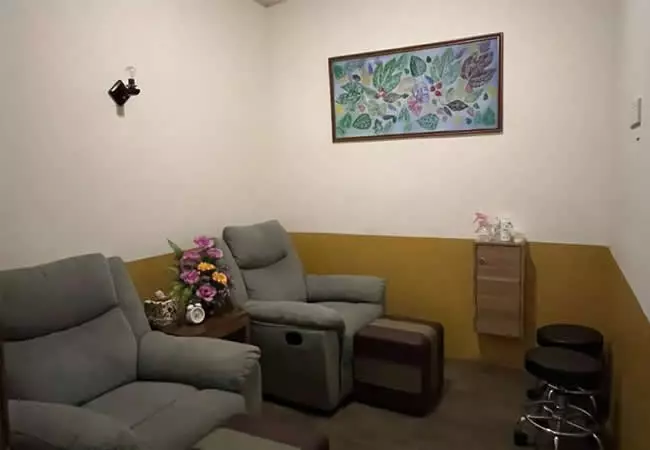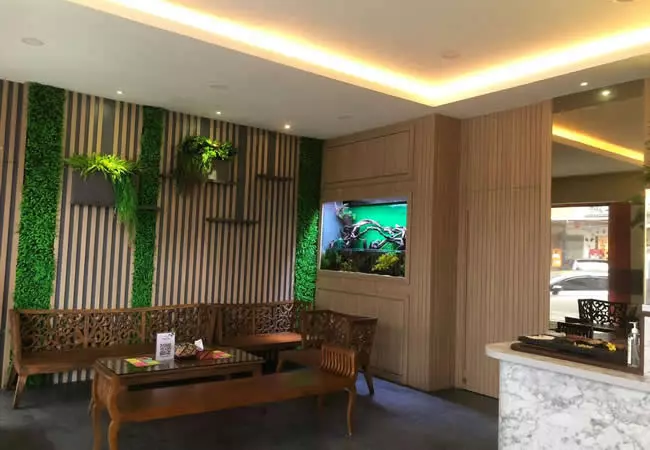 Frequently asked questions
How do i get to Naya Spa Batam?
You can get to Naya Spa Batam by taking ferry from HarbourFront Ferry Terminal Singapore to Batam Center Ferry Terminal with less than an hour ride. Once you arrive at Batam Center you can take a cab which is only around 20 minutes drive away to reach Naya Spa Batam. If you book our Naya Spa Batam Spa Package with us, we will arrange 2 ways ferry tickets land transfer from the ferry terminal along with the spa treatment.
When should i arrive to Naya Spa Batam?
Please arrive at the spa center 10 minutes prior your scheduled treatment time.
Can i use Singapore Dollars at Naya Spa Batam?
According to Indonesia Government Regulations, all monetary transactions conducted in Indonesia must be in Indonesian Rupiah (IDR) only and credit card payments will be converted to Indonesian Rupiah as well.
Do i have to tip the therapists?
All the spa package prices do not include any service charge. If you prefer, you may opt to leave a tip as an appreciation of the therapist services.