With easy access from neighboring Malaysia and Singapore, Batam is is one of the favourite holiday getaway that will please the sightseers, foodies, beach dwellers and shopaholics. Visitors can get into Batam via 5 ferry terminals and 1 International Airport.
So, what are the interesting tourist destinations in Batam?
1. Barelang Bridge


(photo credit indonesia.travel)

The Landmark of Batam, The six sophisticated full swing bridges connects three islands: Batam, Rempang and Galang with total stretch of all six bridges is around two kilometers. Traveling from the first bridge to the last one should take around 20 minutes. This bridge is also surrounded by beautiful sea view and tiny islets. We offer One day Batam Heritage Tour package that will bring you visiting this icon of Batam.
2. Nuvasa Bay


(photo credit Nuvasa Bay)

Nuvasa Bay beach is one of the popular destination for both local visitors and tourists. It is located about 1 hour drive from city center. For those outdoors enthusiast, this is a perfect place for you as it offers vast array of games & activities from Watersports like Jet Ski, Banana Boat, Aqua Adventure to Land adventure games like Paintball, Archery, Flying Fox and many other fun games and activities. You may sign up for our One day Seaforest Adventure if you're interested to visit Nuvasa Bay.
3. Nagoya Hill Mall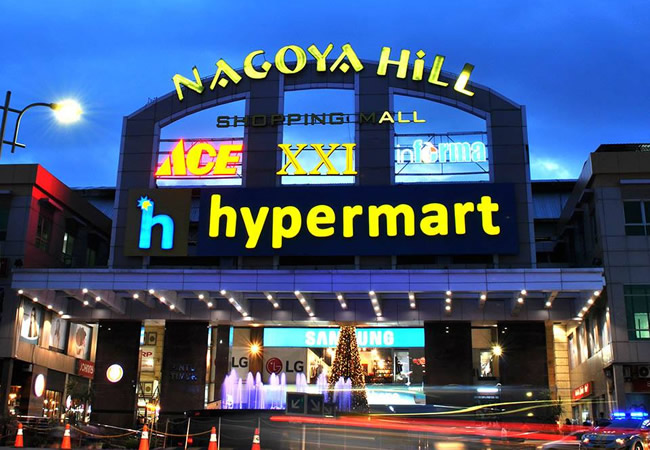 (photo credit facebook @nagoyahillshoppingmall )

Visiting Batam is not complete without visiting Nagoya Hill Mall. It is a cheap shopping heaven for locals and tourists alike. You can get good quality of bags or clothes at discounted price. After your tiring day shopping spree, you may go for relaxing at local massage and spa. There are many spa centers available in Nagoya Hill Area. The Spa Secret and Spa Central are among the top spa centers in Nagoya Hill Area, Batam. If you would like to stay near to this area, there many hotels from budget to 4-star hotel. Our recommended hotels in Nagoya Hill area: Grand i Hotel, Nagoya Hill Hotel, Amaris Nagoya Hill Hotel and The Evitel Hotel.
4. Maha Vihara Duta Maitreya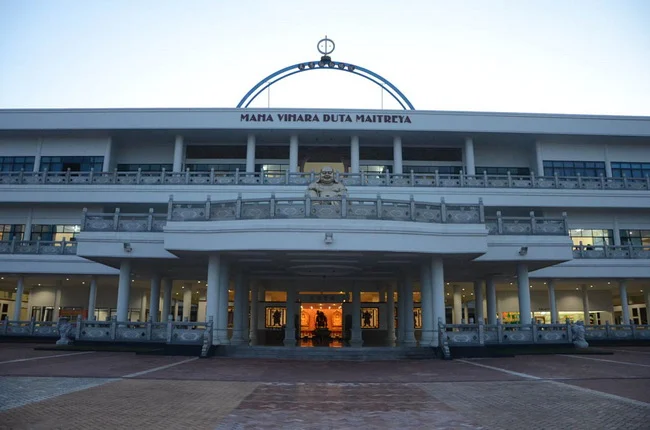 Maha Vihara Duta Maitreya is the Largest Buddhist Temple in Southeast Asia. It was built on 1991 on 4 hectares land and claimed can hold capicity up to 6,000 people during special Buddhist event like Vesak Day. Besides being used for worship, this temple then developed into schools from kindergarten to university level. It also has attracted many tourists mainly from South Korea, Singapore, Malaysia, Japan & China. If you would like to get to know more about this temple, you may join our One Day Batam Tour program.
5. Ranoh Island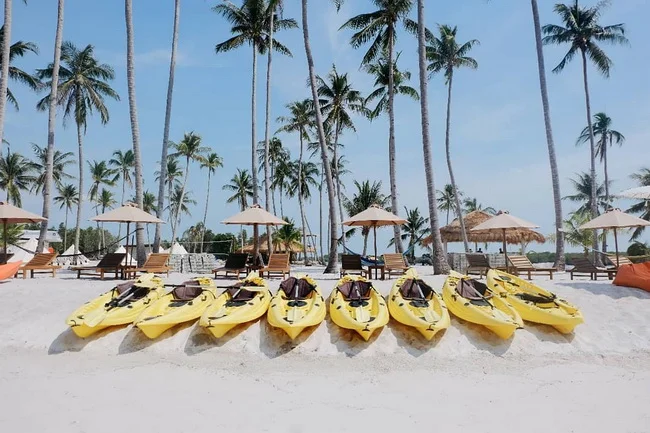 A hidden slice of paradise in cluster island of Batam, Ranoh island is a perfect holiday escape from bustling city life for family and friends who enjoy the sun and white sandy beach. There are also many facilities and activities available in this island. Facilities such as: beach volley, archery, beach football, bean bag, beach chairs, hammock and restaurants. Water sports : Canoe, Fly Fishing, Jetski, Banana Boat, Snorkeling and more. This exotic island is located between Pulau Abang and Pulang Abang Kecil and to get to this island, you may take 60 mins land transfer from Batam city center to Pulau Labun Resort port and take 20 mins speedboat to this island. To avoid this hassle, you may sign up our One Day Ranoh Island Tour with ferry tickets from Singapore + land transfer and speedboat transfer + lunch and water activities with only S$130/person.
6. Kepri Coral Island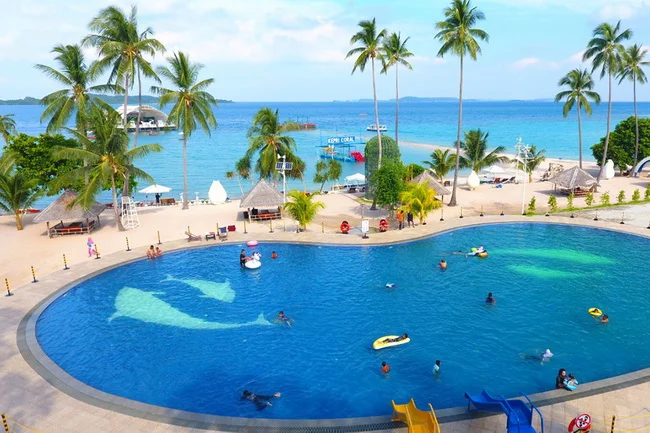 One of the Indonesia's Best Marine Spots. Kepri Coral Island is a popular destination with its unique sea aquarium under the deck of the floating restaurant where visitors can see the gorgeous coral reefs and diverse marine life swimming around the clear turquoise waters. This enchanting island also provides unique igloo-like dome room for guests who would like to stay overnight in the island. For travelers with kids, there are a beach playground where they can slide into the waters. Interested to visit Kepri Coral Island? You can book for our 2D1N Kepri Coral Island Special Deal package from S$149/person.